Las Vegas, Nevada (October, 2, 2019) – PRNewswire – Aruze Gaming ("Aruze") is delighted to announce the global premiere of Roll To Win Craps™ at Harrah's Cherokee Casino Resort in North Carolina. Harrah's Cherokee is managed by Caesars Entertainment LLC, and is an enterprise of the Eastern Band of Cherokee Indians. This North American install will be the first in the world to go live.
Roll To Win Craps™ is a ground-breaking semi-autonomous craps game which allows players to shoot real dice across a large LED playing field screen. Utilizing the same footprint as a traditional craps table, the bright LED panels on Roll To Win Craps™ display amazing graphics and eye-catching animations. Individual player stations accept cash and provide tickets, so no physical chips are needed for play. Players are able to place bets privately on their screen, and then see their virtual chips displayed on the main playing field.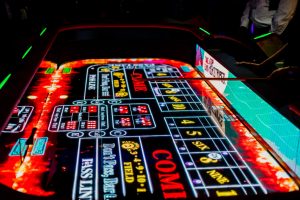 "Throughout the development process for Roll To Win Craps™, Caesars provided invaluable feedback to help us create a product that was perfectly suited to both player and operator needs," said Brandon Knowles, Executive Director of Table Games at Aruze. "Because of their involvement and continued support of this product, we are really thrilled to have the first install at one of their most beautiful properties."
Because of the unique nature of Roll To Win Craps™, where bets are always tracked along with who the shooter is, Aruze is available to offer a Hot Shooter side bet. This side bet makes the best part of a craps game – a hot streak – even more exciting.
"Offering cutting edge products for our guests is a big priority," said Brooks Robinson, Regional Senior Vice President and General Manager of Harrah's Cherokee Casinos. "Partnering with Aruze to introduce this new spin on a classic is really exciting for us."
About Caesars' Harrah's Cherokee Casino Resort
An enterprise of the Eastern Band of Cherokee Indians, Harrah's Cherokee Casino Resort is located in the heart of the Great Smoky Mountains of Western North Carolina. The Casino has 150,000 square feet of gaming space with over 3,600 slot games and 150 traditional table games such as blackjack, roulette and craps. The property also features over 1,100 hotel rooms, the Le Fu Men gaming area, 10 restaurants, the ESSENCE Lounge, the luxurious 18,000 square foot Mandara Spa, 9 retail shops and the 3,000 plus seat Event Center. In addition to the 56-acre property, guests have privileged access to the Eastern Band of Cherokee Indian-owned Sequoyah National Golf Club. Harrah's Cherokee Casino Resort is also home to the UltraStar Multi-tainment center which features 24 bowling lanes, an arcade, 3 bars and 200 seat restaurant with event stage.